Venus on the Spike Heel, Rest in Peace
Rest in peace, Bettie Page.
The queen of the pin-ups is dead. She was 85. Last week, the Fifties-era model suffered a heart attack and never recovered.
Whether she was wearing a skimpy bikini or — better yet — nothing at all, Bettie Page could seduce a camera lens like no one before her or since. More than 50 years after she fled the glare of the limelight, her image continues to hold a powerful fascination in the world of popular culture.
There's a reason for such immortality. Unlike her far better-known contemporary from the Fifties, Marilyn Monroe, the sex appeal of Bettie Page is untarnished by unsettling shades of darkness and ambivalence. Take a gander at some of Bettie's more celebrated photos of that era, particularly those shot by Bunny Yeager, and you'll find not a trace of melancholy or intimidation. With her razor-sharp black bangs and 1,000-watt smile, Bettie Page imbued sex with a hot-blooded, irresistible playfulness. She was naughty and nice — simultaneously.
She was "Venus on the spike heel," according to sci-fi writer and Bettie Page enthusiast Harlan Ellison, who described her thusly: "She is lust in an ice cream cone (two scoops), enthusiasm in the whisper of nylon, post-pubescent rambunctiousness in the back seat of a Studebaker Commander."
Dang. That kind of prose isn't inspired by just anybody.
On the cusp of the sexual revolution, Bettie Page's pin-ups pointed to sex as (who woulda thunk it?) fun. Really fun. Even her black-and-white bondage photos from the Fifties, the kind that was sold behind the counter of Times Square smut shops and raised the ire of a publicity-seeking U.S. senator from Tennessee, were essentially just high camp.
Bettie's natural affability radiated through the camera lens; even the most sweaty-palmed miscreant knew that the brunette beauty, using a hairbrush to smack the rump of another gal, saw it as a kooky but harmless game.
Bettie Page's free-spirited image in the cheesecake magazines of the time did not reflect the reality of her life, of course. In the Nineties, biographers peeled away some of the mysteries of her past.
It wasn't pretty. Victimized in her early years and suffering acute schizophrenia after she disappeared from the public view, Bettie Page turned out to be just as troubled as Marilyn.
She just didn't show it.
Bettie Page was a recluse in her later years. She declined most media interview requests, determined that her legions of admirers would know her only as the bubbly young beauty from yesteryear.
"I don't want to be photographed in my old age," she said. "I feel the same way with old movie stars. … We want to remember them when they were young. It makes me sad."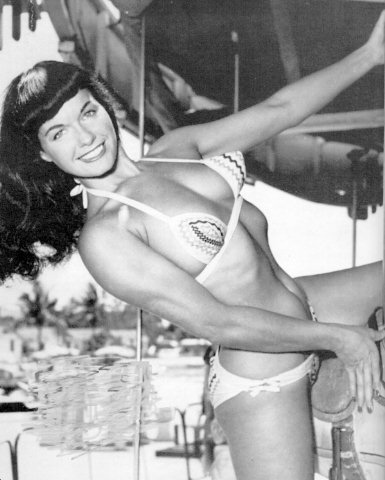 And if there's one thing Bettie Page did not abide, it was sadness.
That's how she wanted to be remembered, and that's how I'll remember her.
– Chase
Comments