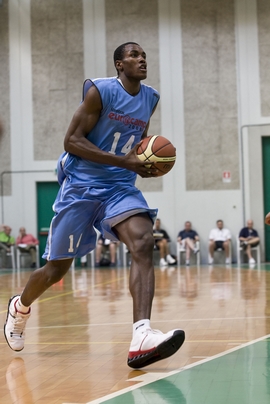 Not many people know much about the Sonics' 24th overall selection, 6-foot-10 power forward Serge Ibaka from Congo. But his highlights, which you can see here and here give you a glimpse into what kind of player he is. The things I've noticed is he's long, athletic, has quickness, a nice shooting touch and can rebound and block shots. For a 6-foot-10 guy he also shows decent ball-handling skills.
People rave about his potential. This from ESPN's Fran Fraschilla: "This guy is the youngest player in the draft (18). If you're a Sonics fan, or maybe an Oklahoma City fan, forget this name for about three years, because he's likely to stay in Spain and continue to develop. But he is one of the most athletic players in this draft. And I think that he's a guy…three or four years from now, he could end up being a shot blocker and rebounder because he's a very good athlete."
Ibaka and Russell Westbrook, the No. 4 pick are scheduled to meet the media in Seattle later this afternoon. Ibaka doesn't speak English but will have an interpreter with him. I'm supposed to be getting a copy of the transcript of his press conference and will post it here when I get it.
OK, here is what the folks in Seattle had to say about Ibaka on Friday:
SAM PRESTI: The last person we would like to introduce is Serge Ibaka. Serge has traveled a long way and he has been on the workout trail. Tremendous physical specimen. Tenacious rebounder. Someone we feel that has great potential, that we feel like again, has great focus to the basketball floor and will fit right in with the workmen-like identity that we are trying to create. Also, for someone that is as good on the glass as he can make shots, we feel that's a great combination. We are excited to work with him as he continues to develop overseas, and as we're developing as a team and growing as team he will be doing so as well in Spain, and we will be working closely with him through the process. So we're excited to add a player of that caliber to our program and to be able to work with him even if it is across the water.
SERGE IBAKA(through translation): First of all I want to say that I am very happy to be here. First I want to thank God and then the people of the organization that trusted in me, selecting me, to be part of this organization and this team and the only thing that I can say is that whenever it is I'm going to work very hard for the team to become a successful player.
-DM-
Comments