Sunscreens and skin cancer
---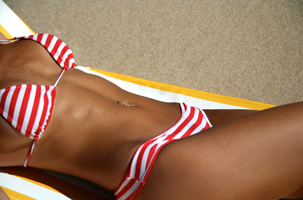 If you're looking forward to soaking up some rays this summer or camping out at your favorite tanning salon, maybe these facts from the Skin Cancer Foundation will make you rethink that decision:
* Skin cancer is the most common form of cancer in the U.S. More than 3.5 million skin cancers in more than 2 milion people are diagnosed annually.
* Each year, more new cases of skin cancer are diagnosed than cancers of the breast, prostate, lung and colon combined.
* One in five Americans will develop skin cancer in the course of a lifetime.
* Ten minutes in a sunbed matches the cancer-causing effects of 10 minutes in the Mediterranean summer sun.
So, in celebration of Skin Cancer Awareness Month, let's talk sunscreen. One of my favorites for my face is Clinique City Block. I tend to reach for one of the Banana Boat formulas for the rest of my body.
Here are five sunscreens that made Consumer Reports' "best" list for 2010:
Up & Up Sport Continuous, available at Target; Walgreens Sport Continuous; Banana Boat Sport Performance Continuous; and Aveeno Continuous Protection.
Got a favorite sunscreen? Share.

---
---