Social Hour: Anonymous wants to report the news; media outlets work to correct it
Last week felt like it would never end. Story after story kept breaking across the country, including more news about the tragic bombing of the Boston Marathon.
A lot of news reports were posted online and a lot of mistakes were made in the process. For this week's Social Hour column, I wanted to round up some of the stories you might have missed, and I also wanted to discuss media mistakes.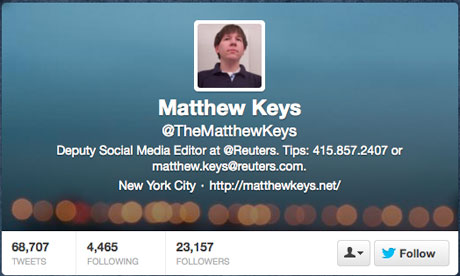 Let's start off with news that broke Monday about Reuters' deputy social media editor, Matthew Keys.
Keys wrote on Twitter Monday that he was fired. Previously, he had been suspended with pay after being indicted on charges that he conspired to help members of the hacker group Anonymous alter The Los Angeles Times website.
He told Politico.com that it seemed like the company was "looking for an out." Although they did not mention the indictment to him over the phone, Keys said they did mention errors he made in his reporting of the manhunt for Boston bombing suspect, Dzhokhar Tsarnaev.
"It's my understanding that Reuters did not agree with some of the coverage I did on my own during the Boston Marathon events from last week," Keys said in an interview with Politico after he announced he had been fired from Reuters. "And they have a specific set of reasons for the termination which I don't agree with and the union that represents me does not agree with. We are in agreement, the union and myself, that I have done nothing wrong, that the basis for the termination is incorrect and doesn't hold any water."
Keys also tweeted later Monday that he had turned his phone off after receiving threatening calls and messages.
In other news,
The Detroit Free Press found itself in the hot seat last week when it
published a graphic detailing how to make a pressure cooker bomb
–the same kind of device that might have been used during explosions at the Boston Marathon.
According to the media blog Romenesko, the paper removed the image online after receiving furious comments from readers. Stefanie Murray, assistant managing editor for digital at the paper, responded by apologizing.
"It was an error in judgment that we regret, and we've removed it everywhere we can," she said.
Circling back around to Anonymous, the hacker group has gained more attention this week, but it's not for hacking into sites or social media accounts.
According to the Huffington Post, the group is trying to start its own media outlet and is raising tens of thousands of dollars online to do so.
So far, the project called "Your Anon News" has raised $54,668 on Indiegogo, the HuffPost reports.
The group posted on its Indiegogo page that it hopes to engineer a new website to collect breaking reports and blog posts from the best independent reporters online. They also plan to provide feeds for citizen journalists who can livestream breaking events.
Finally, I wanted to talk about some of the mistakes and outlets who covered the Boston bombing and Friday's manhunt.
The mistakes began on Wednesday when CNN and several other outlets, including The Associated Press, falsely reported that an arrest had been made. The New York Post was also criticized for its front page of two men with the headline "BAG MEN: Feds seek these two pictured at Boston Marathon."
As journalists, our job is to educate people with facts that are necessary for their daily lives. Have we forgotten about educating our readers and become too focused on beating a competitor on social media? If so, I worry about this industry and its future.
Social media is very valuable and can be used in so many ways to crowd source information, ask for participation and deliver breaking news alerts.
My fear is that we've given into our fast-paced society and feel like we have to report something new, even if it doesn't appear to be accurate.
I also worry about our readers. According to Scott Maier, a journalism professor at the University of Oregon who has researched reporting mistakes, the public is "pretty understanding" of errors as long as a news outlet owns up to them.
"The research shows that people who [are sources of] the news media know the media won't get it all right all the time. There's an expectation that when news is fast-breaking and unfolding that reporters won't always have it right.
So why read breaking news at all if it's not even expected to be correct? Do we do it for social currency? Are we so obsessed with one-upping a friend or neighbor on a subject, that we have to know what's going on every second in a breaking situation?
Of course, there has to be a balance. Readers want information as quickly as they can get it, which means new outlets can't wait to tell them in tomorrow's newspaper. They have to step up to the digital plate and give them details in real time; however, doing so could mean giving them false information.
What's the solution? I want to hear from you. Do you think the news industry moves too quickly on stories? Or do you think they're still behind when it comes to online updates?
How can we prevent these types of mistakes in the future? Waiting 20 more minutes before posting to allow several editors to take a look? Verify reports through more than one source?
Share your thoughts on this in the comments below.
Comments