Summer reading: "How to Look Expensive" cheap beauty picks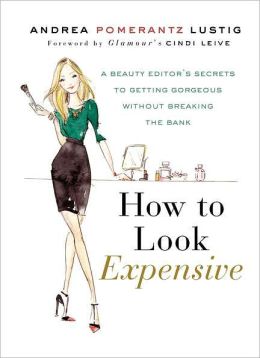 Who among us doesn't like a cheap beauty thrill?
Glamour magazine beauty sleuth Andrea Pomerantz Lustig delivers all kinds of finds and information in her new book, "How to Look Expensive, Andrea Pomerantz Lustig's personal beauty picks for summer, all for under $15."
In her book, Pomerantz Lustig draws on her years of experience talking to beauty experts about how to achieve the must-have looks of the season without over spending. Here's what she says about a few items:
NAILS:
Sally Hansen Xtreme Wear Nail Color ($2.99): Get reflective brilliance and Xtreme shine in new, juicy summer shades. Sally Hansen's Xtreme Wear Beach Blast Collection delivers bright, trendsetting color in a fun fruit palette plus a high gloss finish. The patented micro-shine complex delivers dazzling, radiant shine and lets you add pop of color to any beachside look.
Available hades: Berry Juicy, Blueberry Blast, Ice Pop, Kiwi Bikini, Lemon Zest, Peach Beach, Perfect Pear-ing, Pinch of Punch, Pink-Grapefruit, Razz-Berry.
SKIN:
Sally Hansen Ouch-Relief Wax Kit for Face and Body ($9.99): The first at-home waxing solution to deliver mess free, pain-free results, this kit is a must for every beach-bound beauty. The first-to-market innovation helps transform waxing from a painful process to an ouch-free experience. Best of all, Sally Hansen's exclusive Pain Relief Technology Pre-Wax Wipes deliver pain-free results with less mess.
Kit includes: 20 Strips, 5 Pre-Wax Wipes, 1 Ergonomic Spatula, 6.7 oz Sugar Wax and instructions.
Sally Hansen Airbrush Legs Lotion ($13.99): Get irresistible, short shorts-ready legs—no sun required. From celebrities to real women, the beauty savvy know that Sally Hansen Airbrush Legs Lotion signature spray leaves legs looking smooth and even in an instant. Now, Sally Hansen 's developed a revolutionary liquid version of the coveted beauty staple, making it even easier to get flawless legs in a flash. The lightweight leg makeup goes on evenly to eliminate imperfections, leaving legs ready to show off all summer long.
Available in four natural-looking shades: Light, Medium, Tan, and Deep
LIPS: